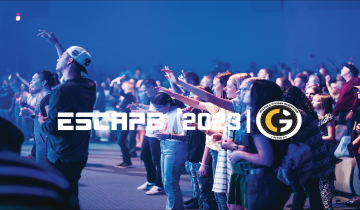 Escape 2023: Chosen Generation
ESCAPE 2023: Chosen Generation is for all JRHI & High School aged students who are hungry for more of God, who want to be confident in who God has called them to be and are ready to change their world!
Cost is $50* per student
(includes ticket to We Are Messengers)

*Without Walls will cover $5 of the registration cost per student
Click the Link for all the info and to reserve your spot today!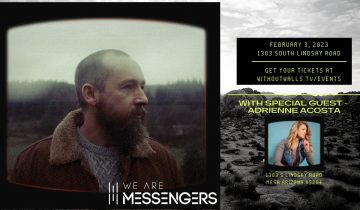 We Are Messengers w/ Adrienne Acosta
We Are Messengers has over 400 million career streams, over 2.5 billion airplay audience, and a multi-week #1 billboard radio song ("Come What May"), along with six Top 5 and ten Top 10 Christian Airplay hits with "Image of God. "Power," "Maybe It's Ok, "Magnify," "Point To You," "Love." "Everything Comes Alive." "God With Us." "This Is Jesus" and "From Heaven To Earth (Joy To The World)." The band has had multiple sync film and TV placements on major networks including Lionsgate, MTV and CBC. We Are Messengers has played for a live audience of over 2 million people across 40 states and 5 countries, including selling out shows in the Netherlands, England, and lead vocalist Darren Mulligan's native Ireland. The band is headlining the Wholehearted Tour (Apr – Nov 2022) following on the heels of consecutive USA arena tours with Toby Mac and Casting Crowns. The Dove-nominated and K-LOVE Award winning group's new single "God You Are " is available now.
Adrienne Acosta, a Phoenix based Contemporary Christian Artist has a unique way of taking life experiences and making them into piano driven pop melodies that everyone can relate to. Church raised and choir trained, her voice is one that is unique and doesn't go unnoticed. Her music is influenced by the gentle approach of Natalie Grant & Kari Jobe, mixed with the fun and catchy pop melodies of Britt Nicole & Francesca Battistelli.
This is going to be a night that you DO NOT WANT TO MISS! Grab your tickets today!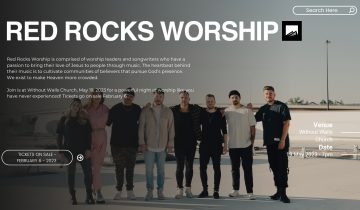 Red Rocks Worship
Join is at Without Walls Church, May 19, 2023 for a powerful night of worship like you have never experienced! Tickets go on sale February 6.