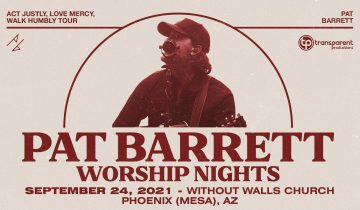 Pat Barrett – Live In Concert
Pat Barrett Worship Nights
Live in Phoenix (Mesa), AZ at Without Walls Church
—————————–
With popular songs such as "Build My Life," "The Way (New Horizon)" and "Good Good Father," Pat Barrett is a key songwriter and artist in the broader worship music community. Barrett, a worship leader based in Atlanta, GA and former singer/songwriter with the band Housefires, released his solo debut album in 2018 landing two #1 singles at Christian radio! Join Pat for a special night of worship in celebration of his new release "Act Justly, Love Mercy, Walk Humbly".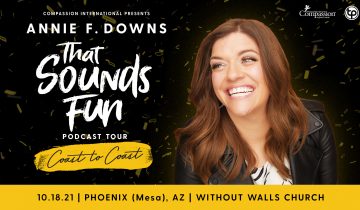 Annie F Downs – That Sounds Fun Tour
Annie F. Downs is a New York Times bestselling author, sought-after speaker, and successful podcast host based in Nashville, Tennessee.
Engaging and honest, she makes readers and listeners alike feel as if they've been long-time friends. Founder of the That Sounds Fun Network—which includes her aptly named flagship show, That Sounds Fun—and author of multiple bestselling books including That Sounds Fun, 100 Days to Brave and Remember God, Annie shoots straight and doesn't shy away from the tough topics. But she always finds her way back to the truth that God is good and that life is a gift.